war ein besonderes Jahr, was mir gestern beim Wiederanhören der
Elephant
von den
White Stripes
auffiel.
Nicht nur für mich - ich erinnere mich an einen Londonaufenthalt im März, kurz vor Ausbruch des Irakkrieges - sondern überhaupt. Siehe
Irakkrieg
und vor allem der Sommer, der als Jahrhundertsommer mit einer brutalen Hitzewelle im Gedächtnis haften blieb.
Und
Elephant
- irgendwann (ich hörte dies das erste Mal, als
Rapid
in Belgien gegen
Brügge
spielte) sangen Fussballfans das Hauptthema von
Seven Nation Army
nach.
Und falls
Pete Doherty
(dem Einzigen, dem ich es zutrauen würde) nicht noch was Geniales einfällt, wird
Elephant
wohl die CD des Jahrzehnts werden.
So wie es (persönlicher Geschmack, Massenkompatibilität, kollektives Unterbewusstes hin oder her)
in den 60ern Sergeant Pepper`s Lonely Hearts Club Band
in den 70ern Dark Side of the Moon
zu den 80ern fällt mir Herausragenderes nicht ein - nein, auch Kraftwerk`s Menschmaschine schafft es nicht
in den 90ern Nevermind von Nirvana
war.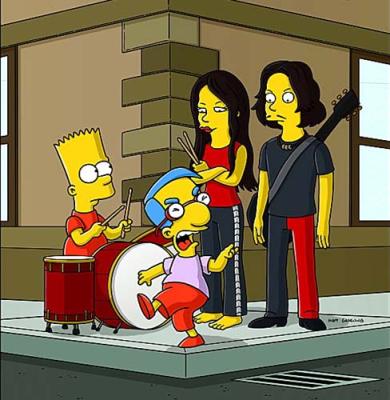 Wetten werden angenommen.